BLOG
Introducing Limitless VR: The Future of VR and Laser Tag
We are extremely excited to unveil Limitless VR, a game-changing free roam virtual reality attraction for entertainment venues.
This high capacity attraction is installed in a laser tag arena to give operators two attractions in a single space: traditional laser tag arena and a virtual arena that transforms with the tap of a button.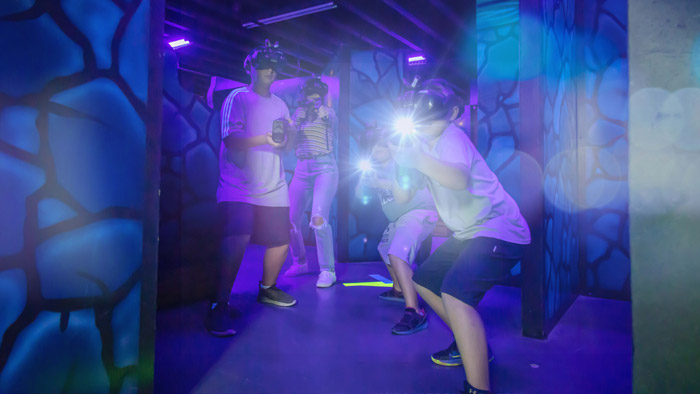 Players use an untethered headset to freely walk through the entire laser tag arena. The props, barriers, and walls of the space are all mapped and represented in the virtual world. When players touch a wall in the virtual space, they feel the tactile wall in real life. This merging of virtual and authentic worlds is a huge leap for free roam VR.
Two of the biggest draws of Limitless VR are the high capacity and high throughput, which means huge revenue potential for operators. Limitless is currently the highest-capacity free roam VR option on the market, allowing up to 16 players to compete simultaneously. In future product upgrades, this capacity will be raised to 30 players.
"Limitless VR is a huge breakthrough in free roam technology," commented our President, Armando Lanuti. "This is the perfect way for an existing laser tag attraction to get a refresh without any major renovations and provide an exciting new experience. Plus it's a great fit for operators who are adding a new laser tag attraction and want to provide a dual experience in the same space."
Limitless VR experiences are designed to slot into a facility's current laser tag operations, with a 15 minute experience that includes briefing, gearing up, and game play. Operators are able to switch back and forth between laser tag and Limitless games regardless of what laser tag equipment they use. This flexibility lets operators maximize revenue and get the most out of both attractions.
Every game of Limitless is unique, with multiple themed virtual worlds and multiple character avatars. We will continue to release more themes, avatars, and game modes to help keep the guests coming back again and again.
Operators can be the first to experience Limitless VR at IAAPA Expo in Orlando. Those interested can stop by our booths 3672 and 3871 to register to play Limitless at Andretti Indoor Karting & Games.
For more information about Limitless VR, click here.