BLOG
Laser Tag Boosts Revenue 23% at Recoil Trampoline Park
Savvy operators in the family entertainment industry know that they always need to be evolving if they want to grow. One such operator is Trent Coggins, a professional attorney and owner of Recoil Trampoline Park, who we had the pleasure of speaking with at IAAPA about his most recent attractions, like laser tag, and the tremendous impact they've had on his business.
About Recoil Trampoline Park
Recoil Trampoline Park is a 30,000 square foot family entertainment center in Valdosta, Georgia that opened its doors in September 2019. It provides a safe, clean, and exciting environment where people of all ages can get off the couch and get their blood pumping by bouncing, climbing, and tumbling through a wide variety of action-packed adventure zones. Their attractions don't end there: the popular facility added a laser tag arena in 2021, and has since introduced Hyperdeck VR to the lineup as well.
Download This Presentation to Learn How Laser Tag Can Boost Your Revenue
Download Laser Tag Presentation
---
Designing the Perfect Laser Tag Arena
When Coggins attended Amusement 360 in February 2020 he was just starting to consider an expansion to his business, and laser tag was the best fit. However, Recoil isn't a cookie-cutter family entertainment center, and they didn't want a cookie cutter arena for their laser tag. Creative Works was, of course, thrilled to work with Coggins to create an above-and-beyond experience, custom tailored to his audience.
Recoil's hometown of Valdosta is also home to Moody Air Force base and is the birthplace of the iconic A-10 Warthog. With roughly a third of his business coming from local military personnel, Coggins knew he wanted to pay homage to this legacy with his brand new arena. 
"Creative Works was, to me, the best option for what we wanted to do with our facility," said Coggins, "I was extremely impressed with the process. We designed it from start to finish with them, working from day one all the way through the day we opened. It was pretty amazing."
With his guidance, Creative Works helped to design a truly impressive signature prop for his modern warzone-themed laser tag: a massive, hanging A-10 Warthog replica.
"It shoots, it's interactive, it is wonderful, and it really has become the feature of our entire park. Our military guys love it, our kids love it, and the community loves it," he said.
The Impact of Laser Tag
Since opening their laser tag arena in September 2021, Recoil has seen quite the jump in their numbers.
"From that point through one year, we've seen about a 23% increase in our business," Coggins said, "We're looking at about a 12 month ROI on the entire project, so very pleased with it. Our customers have really flocked to it. Obviously, trampolines are our number one business but laser tag is pushing it hard."
And laser tag has been a perfect fit for the "active fun" ethos that is built into the DNA of a trampoline park. The arena gets clients moving and sweating as much as any active attraction – if not moreso. In fact, Coggins keeps his arena two degrees colder than his main facility for just that reason.
What's Next for Recoil?
One of the next big initiatives for Recoil has been increasing the average age of their customers by providing attractions that appeal to all ages. Laser tag bumped that average up once, and they're doing it again by adding world-class VR to their lineup with Hyperdeck.
"We looked to see what was next after laser tag, and Hyperdeck, to me, was above and beyond," said Coggins, "You know, there's a lot of virtual reality out there right now but I figured you needed something a little bit more to get a kid off the sofa. 3D was one thing, but 5D is quite a different thing."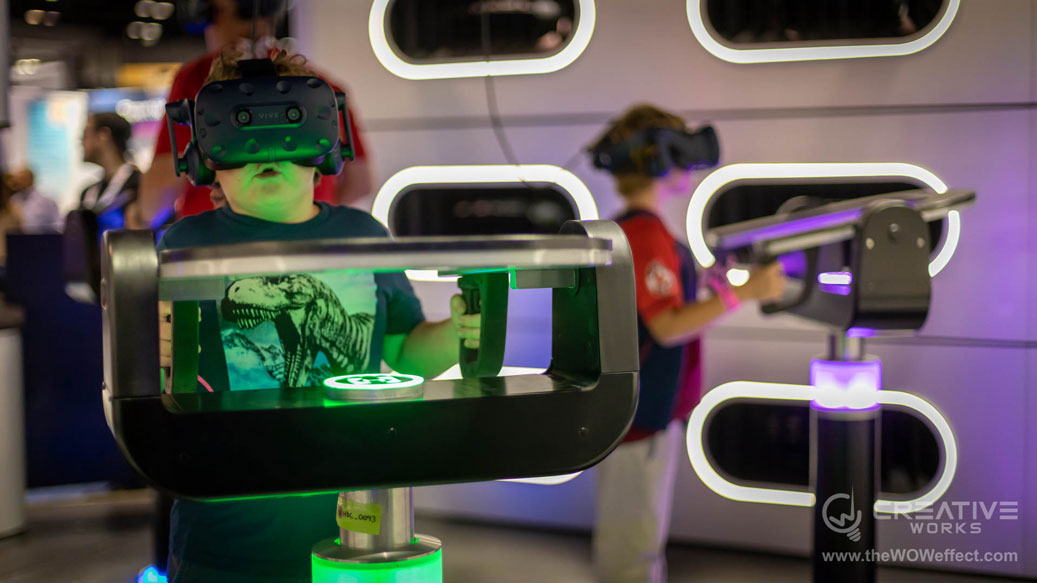 After getting a chance to play Hyperdeck himself at IAAPA 2021, Coggins knew it was going to be the next big hit back at home.
"We put ours literally right at the front of our facility. It almost sells itself."
Recoil sets a wonderful example of serving your community while growing a family entertainment center, and goes to show the power of adding complementary attractions to your facility, like laser tag and Hyperdeck.
"When people leave my facility and they thank me for bringing something like this to our town, that is the greatest compliment anyone can give me," said Coggins, "it's the best thing I can do."
If you'd like to see this kind of impact in your own business, reach out – Creative Works would love to help you make memories.